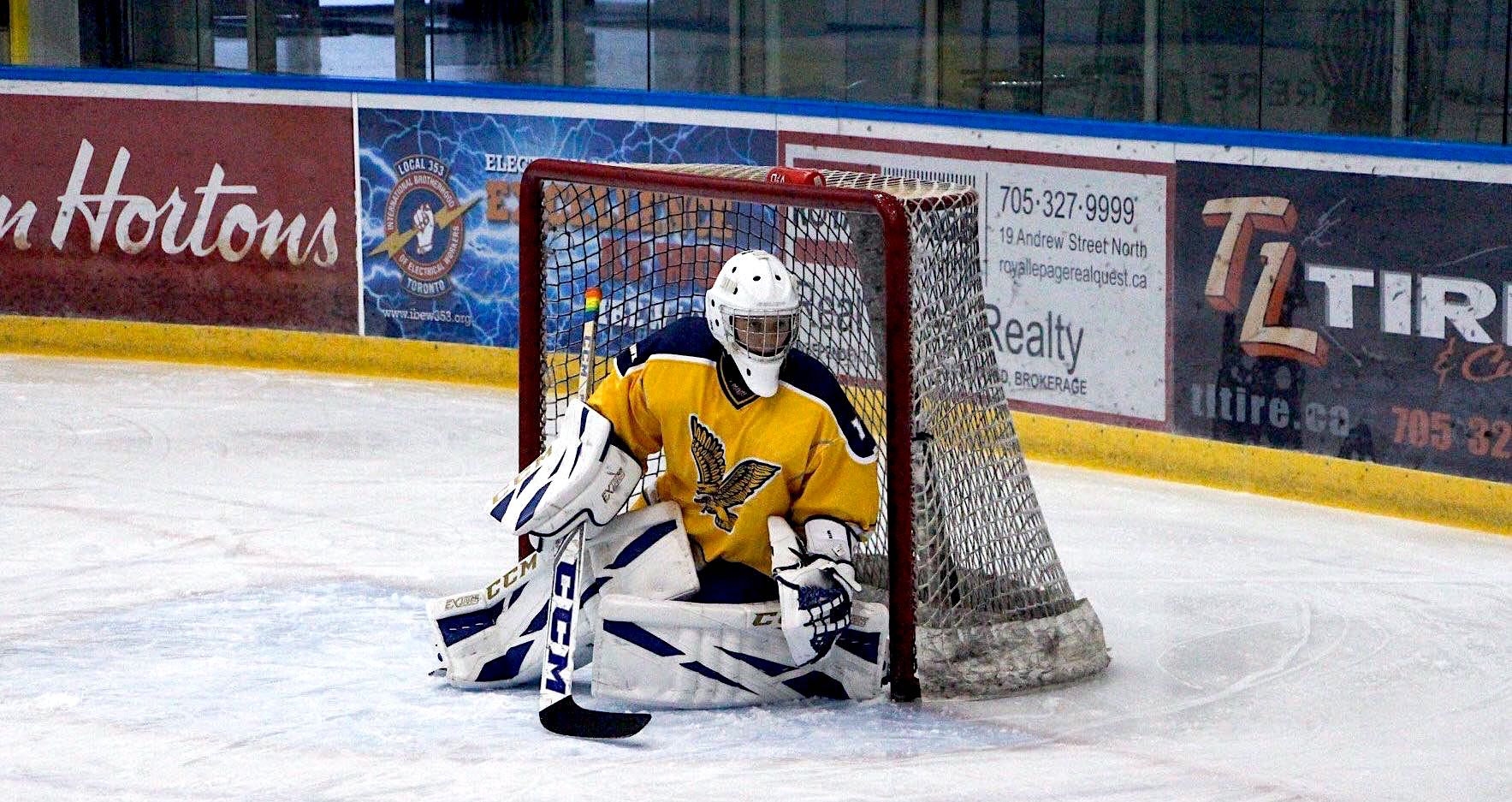 — By Haley Rath —
On a typical Monday, class starts at 8 am and goes until about 2 pm. From there, I head home to grab my gear before going to a 5 pm hockey practice where I get a chance to just be a hockey player and joke with my teammates. Then, I go to the next rink for the Monday night skills clinic where I am one of three goalie coaches. Between practice and the clinic, I grab food at rink #2 and hang out in the lobby. A dozen people will come by and say hi. After the two-hour clinic, I head home to prep for the next day, which is as jam-packed and hockey-filled as the one that just ended.
"Women's hockey deserves to be on the front lines, deserves to be showcased on live TV, deserves to be covered by people who know the sport and the people within it… TSN, Sportsnet, CBC – you all need to do better! People cannot support what they cannot see."
-Haley Rath
For those that don't know me, my name is Haley Rath. I'm a third-year Sport Management student at Humber College. I also intern for Grindstone and occasionally play some puck. During my first two years at Humber, I worked for the Toronto Furies. Not everyday is as jam-packed as my Mondays but most days look quite similar. There isn't a rink in the GTA (Greater Toronto Area) that I can walk into without someone knowing who I am. One of my biggest goals in life is to grow the game. Hockey is my passion – always has been and always will be.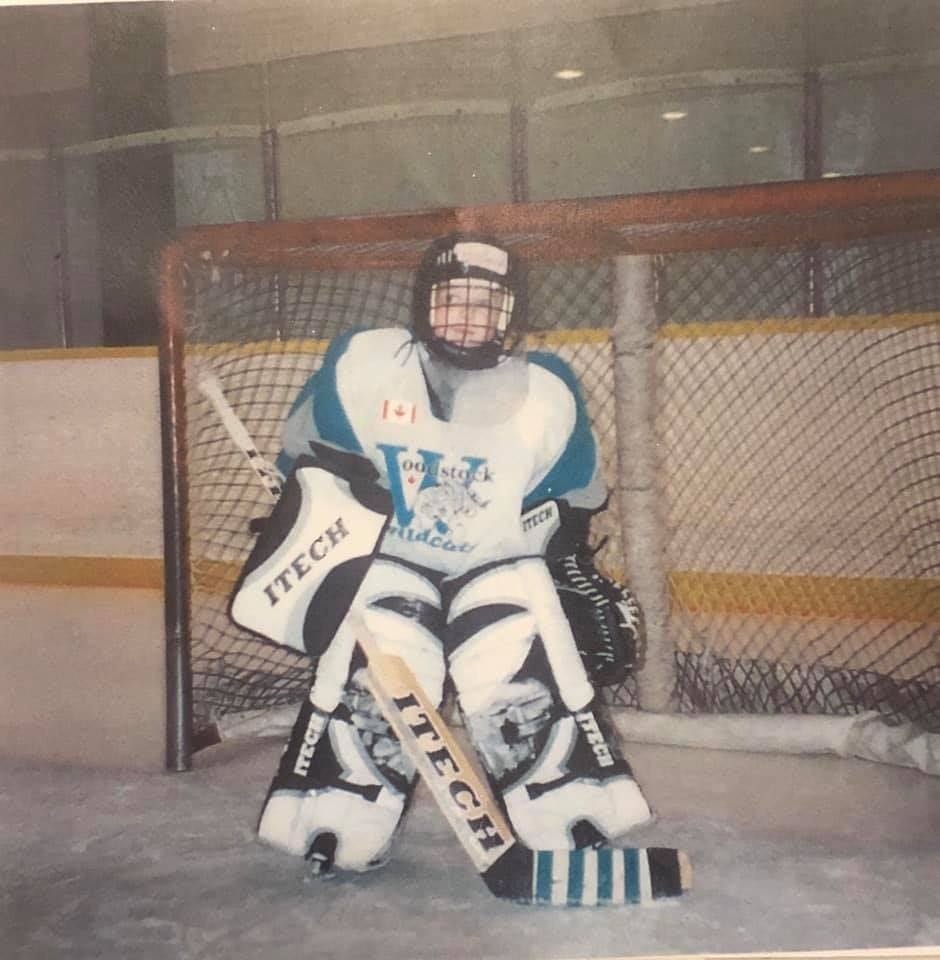 I grew up playing for the Etobicoke Dolphins, a local girls hockey league, but I made my hockey debut with the Woodstock Wildcats (see picture, right) when I was five years old. One of my earliest hockey memories was a big save I made when I first started. The shot hit off my pad and echoed throughout the rink and I remember loving the way that sound made me feel. It was kismet – I knew I was going to be a goalie. To this day, whenever I hear a booming echo off a kick save, I think back on that moment.
My Hockey Career
My hockey career is nothing to brag about, having never played at any sort of elite level, but it's always been my passion, the thing that could make a bad day good. I've had my ups and downs, teams that were more fun and/or more skilled than others but it always came down to my love for the game. For thirteen years I played for the Dolphins, earning two provincial medals, two league medals, and over a dozen tournament medals but, most importantly, a pile of teammates that I still call friends to this day. Hockey helped me become who I am and now I coach in Etobicoke to give back to the league that gave me so much. I currently coach two Peewee teams and help with the clinic alongside Professional Women's Hockey Players Association (PWHPA) goalies Amelia Boughn or Amanda Makela. The kids I coach remind me every day why I, and so many others, fight to grow the game.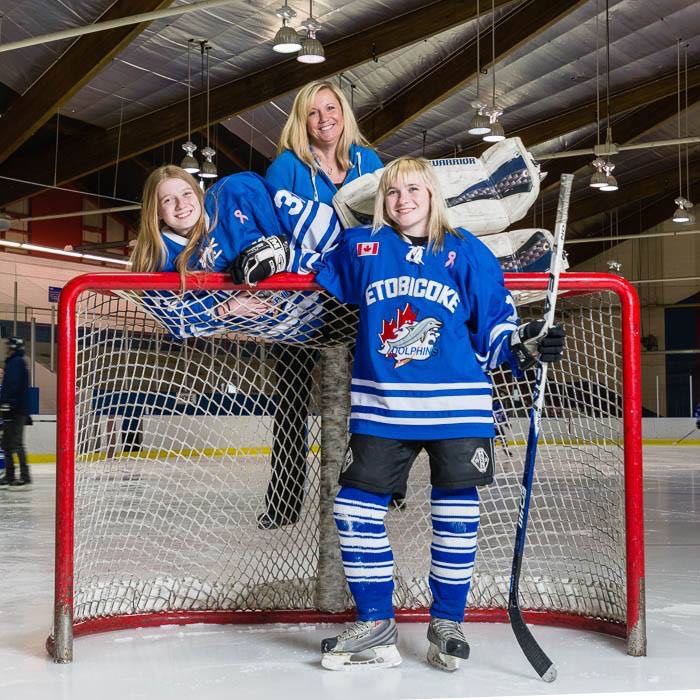 The Etobicoke Dolphins are an elite organization, always full of talent and top-quality teams. Hockey is a very expensive sport – no one can deny that – and with the Dolphins home rink being at the Toronto Maple Leafs' official practice facility, it is an expensive place to play. Hockey costs twice as much as when I played there five years ago (that's my mom and sister in the picture above; my mom was trainer and my sister a winger on my team that year) and even then, many of my teammates and I would discuss the issue our families had paying these fees. There was always the conversation in my household (where all three of us kids and both my parents played hockey) of "will we be able to afford hockey this year?" I am grateful that the answer was always yes, somehow, some way. But there are some kids who aren't as lucky as I was and that's what makes Grindstone so important.
I played other sports growing up besides hockey. My summer months (aka 'the offseason') generally consisted of football or soccer or whatever my little brother felt like playing that day. My family is very active and you could almost always find us outside, tossing a football, playing road hockey or kicking a soccer ball around. I got into soccer in the eleventh grade when the high school team needed a goalie (disclaimer: hockey goalie and soccer goalie are two very different things!). I wasn't much of a goalie in soccer but I did make a halfway decent striker and ended up playing for my university team for a year alongside the hockey I played for three years.
Me: *spent literally all day in a rink*
My friend: "I've got a game tonight!"
Me: "Can I come watch??"

— Haley Rath (@rathh31) February 15, 2020
Into The Sports Industry
After high school, I went to university to study psychology and criminology but it wasn't long before I realized I was going the wrong direction. I decided to graduate university a year early so I could pursue Sport Management at Humber College. In my first year at Humber, I joined the Toronto Furies as a game day volunteer for the 2017-18 season. I worked closely with the Manager of Game Day Ops at the time, Cheryl MacMillan, to learn everything I could. When a change in team management happened over the summer of 2018, I was asked to return and become the new Manager of Game Day Ops (see picture below). With a new staff of volunteers and a sense of new beginnings, I can proudly say game-day operations was at its best. It was a fantastic experience and I had looked forward to continuing working for the Furies for the 2019-20 season… but, as we all know, the opportunity for me and many others to return to the CWHL vanished last spring.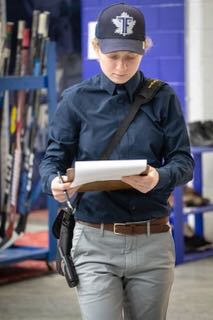 On March 31st, I was at the Furies' home rink for my own tournament when I got a tweet saying the CWHL was folding. I couldn't believe it, didn't want to believe it. The future I had been building went up in smoke. Five minutes later, the Furies players and staff all got an email from GM Sami Jo Small confirming what most of us had already seen on social media: It was over. Everything we had worked for, everything we had started to create, gone. After my game, I went to the Furies dressing room. To say goodbye? To hang on to what was quickly becoming the past? I don't know but Sami and Katrina Galas were also there. We put together a press release and Sami did an interview with a local news station. It was a long day, one that still feels as if it has not ended.
Growing up, I idolized Sami Jo Small. She's a legend. From playing in the first Olympic Games with women's hockey to founding the CWHL, she's done it all. I've had the privilege of attending camps with her as a guest growing up and doing drills alongside my idol. I've watched her play for the Furies and seen her win Olympic medals. But last year, I had the honour of working with her. My first meeting with Sami felt surreal; I was pretty star-struck. I worked with Sami for a year and have continued an ongoing friendship with her, even playing hockey with her when her rec team needed a goalie! Sami Jo Small was the first goalie I ever truly idolized. They say you should never meet your idols but Sami must be the exception because she lives up to the hype.
After the folding of the CWHL, there was a sense of loss, but you could also feel the ripple of change coming. Everyone wanted better, wanted more than the situation we were thrust into. When the players posted their first statement, it relit a fire in me. So much was happening – between the NWHL attempting to start teams in Toronto and Montreal and the beginning of what is now the PWHPA – it created a real mix of emotions in me. I was impressed by how quickly the players rallied. Of course, it had to be done, but considering that they had just lost their league, it was an impressive feat of strength how they picked themselves up and moved forward – a strength, I admit, I did not have at the time. Despite seeing the positives that were coming from its departure, I was too busy mourning the loss of the CWHL to help.
Joining Grindstone
Grindstone president @DanielleGrundy3 is in #Toronto & has had some really great meetings over the last few days, including this one with Haley Rath (@RathH31). You will be seeing more of Haley soon! ????#girlshockey #womenshockey #womeninsports #hockeytwitter pic.twitter.com/cvcYvDqTim

— Grindstone Award Foundation (@GrindstoneAward) September 4, 2019
It wasn't until my third year that I was kick-started by the idea of my impending internships. I wanted to continue working in women's hockey, growing the game however I could. I didn't want to waste my internship on something I would only vaguely care about for the sake of my grades and that's when I turned to the Grindstone Award Foundation. Having worked with them through their CWHL events with the Furies, I knew their name and their focus and felt it was something I wanted to be a part of. Luckily they were as excited as I was by the prospect! I met with Danielle Grundy, Grindstone's founder and president, while she was in Toronto in September and I was in.
Initially, I just sat in on meetings to learn how Grindstone operated but I quickly became part of the team. They were looking to grow their base in Ontario and that's where I come in. Since joining Grindstone, I've worked on growing what has been dubbed "Team Ontario". We've reached out to all the Ontario girls' leagues, figuring out ways to help raise funds for our grant process. Most recently, I was at the PWHPA Secret Showcase (see picture below — with Laura Oliver (right)) in Toronto on behalf of Grindstone running a chuck-a-puck fundraiser. Working with Grindstone has restored my sense of purpose. I am once again able to help grow the game and be a part of the movement – despite still mourning the loss of my beloved Toronto Furies.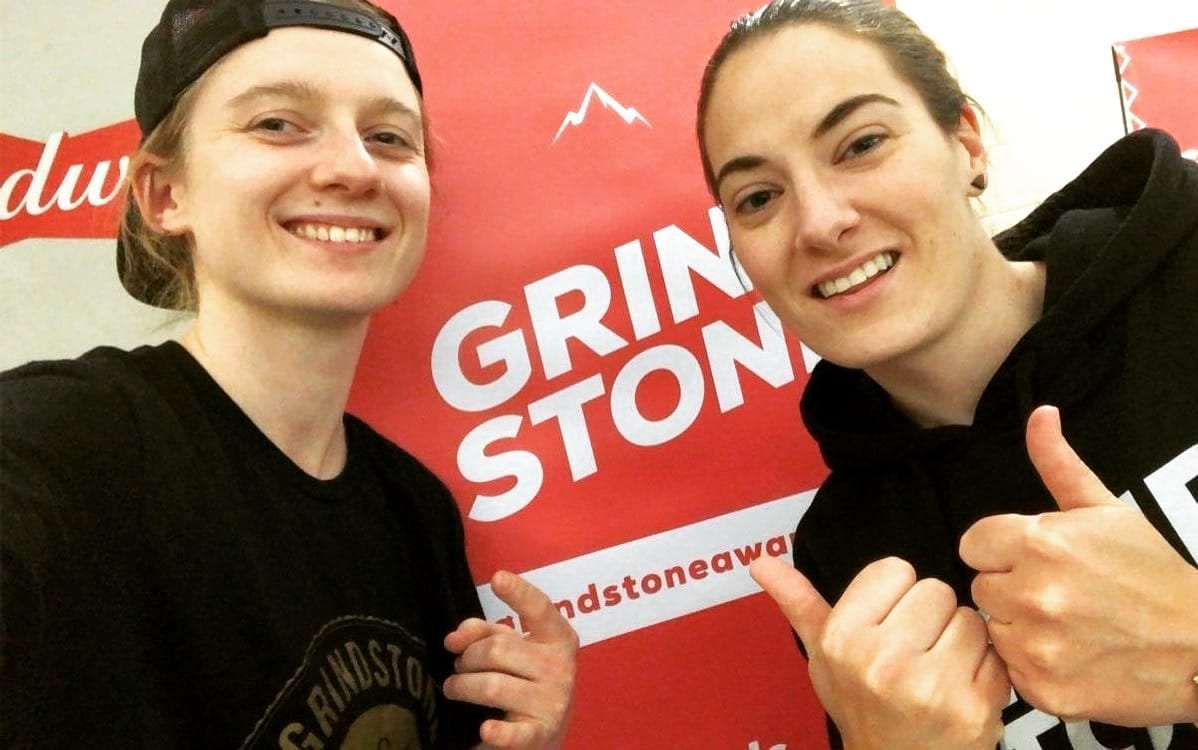 Sami always signs off her emails with this quote: "In life you don't always get to choose the role you play, but you always get to choose how to play it." She told us the story behind it at our first team/staff meeting of the season. When her goalie partner was chosen over her to play the gold medal game of the Olympics, she was devastated. After walking around and giving it some thought, she knew what she had to do: She had to be the supportive teammate her teammates needed for that game. And she was. I took that story to heart, not knowing that I would need it so soon. It took me longer than it should have to bounce back from the loss of my Furies but I am here at Grindstone now, playing this role to the best of my abilities.
So to sign off, I am going to make a call to action. Women's hockey deserves to be on the front lines, deserves to be showcased on live TV, deserves to be covered by people who know the sport and the people within it. What happened with our U18s women in Bratislava and the poor streaming is unacceptable. TSN, Sportsnet, CBC – you all need to do better! People cannot support what they cannot see. Imagine what would happen to women's hockey if you showcased it the way the men's Juniors were showcased? Everyday I am surrounded by people that are working hard to grow this game, who are tired of the way women's hockey and women's sports in general are being treated. We are going to change the world for the better and I, for one, can't wait to be a part of it!
__________________
RELATED- Offside: Challenges Faced By Women in Hockey – A Memoir by Haley Rath
__________________