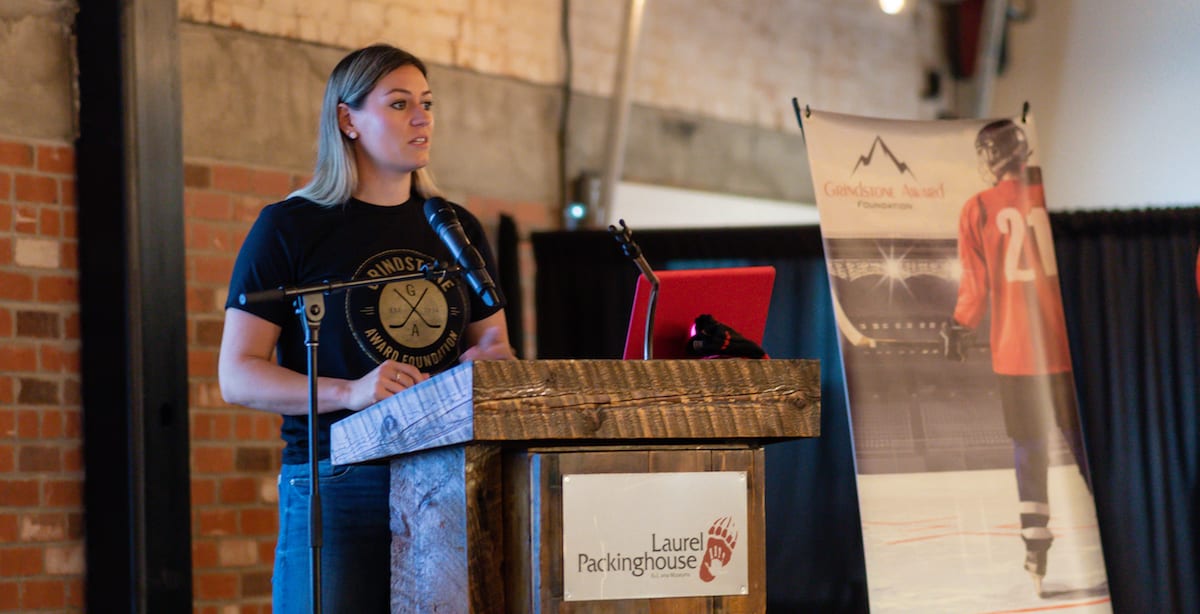 Natalie Spooner is a player who needs little introduction. She's an Olympic gold and silver medalist, and in 2014 became the first woman to win a Clarkson Cup and Olympic gold medal in the same year. In 2014, Spooner also appeared on the second season of Amazing Race Canada with Canadian Olympic teammate Meaghan Mikkelson. The duo were fan favourites and finished runner-up in the competition.
Natalie will be competing on a new season of Battle of the Blades, CBC's figure skating reality show, which debuts tonight (September 19).
"It was before the 2014 Olympics. I was so nervous from head to toe and [Hayley Wickenheiser] just looked at me and said, "Don't worry what anyone else thinks out there. Just go out there and play your game." And to know that she had confidence in me, gave me confidence."
–Natalie Spooner on the best advice she's received from a teammate
Natalie joined Grindstone in Kelowna, BC in July (where she helped us raise $25,000 to keep Canadian girls in hockey) and sat down with our very own Kristi Patton to talk about topics ranging from the best advice she's received from a teammate to the origin of the 'Spooner selfie'.
[This interview has been edited for brevity and clarity.]
Kristi Patton: Thanks for joining us, Nat! Let's kick things off with an easy one. What's your greatest hockey memory?
SPOONER My greatest moment in hockey would definitely be winning the Olympics in Sochi. Obviously, as a little kid my dream was to go to the Olympics and to win a medal, so when that all came true, it was really the best day of my life so far.
Do you remember being a little kid, playing street hockey, pretending to be a player at the Olympics?
SPOONER I don't really remember that, but I remember when I met 'the girls' and saw their gold medals I thought, "I want to do that. I want to win them just like they've won them."
Which group was that? Do you remember what year that was?
SPOONER I met Jennifer Botterill in 2001 at a hockey camp. I would have been like 11 years old.
Was that when you realized that hockey was your calling?
SPOONER That's when I realized that they were actually real people and that I could be like them, you know, that there were women who were playing hockey and winning Olympic medals which was really cool to me.
When did you have that moment where you felt, "Oh, I've actually made it. I'm on the Olympic team"?
SPOONER The moment that I really realized that I made the Olympics was the opening ceremonies [in Sochi] and walking in with more than just our team, like ALL of Team Canada.
It's one of those pinch me moments when you're surrounded by so many Canadians. You just feel so much pride and you walk in and it's overwhelming. You don't know where to look and you don't know where to wave. That was probably my second favourite moment of the Olympics.
Your first, of course, being the gold medal?
SPOONER [Laughs] Yeah, the first would be winning!
What does the phrase 'female hockey player' mean to you?
SPOONER There is a lot behind what female hockey means to me. Obviously, being a female hockey player, I think of how strong [we] are, how determined [we] are, but also how passionate [we] are because it's not like it's a regular career for us.
I hope it continues that way and eventually that playing hockey becomes a career for us. I hope we have the same passion and fire within us to show those little girls just how good they can be.
Do you ever have a moment when you have a little girl banging on the glass and you think, "There are little kids watching now. Watching everything I do"? 
SPOONER For sure. There have been a lot of those moments, but still, to be honest, I just feel like a regular person. I go to the grocery store. I do everything regular, so it feels really weird when little girls say, "You're my role model. I look up to you."
I'm just me. I'm just a hockey player and I was gifted and good at hockey. I've worked really hard to get here and I have these talents. I think it's just kind of crazy that hockey could bring me this platform and give me this voice that I try to use for the best and hopefully inspire those younger girls to be able to do the same.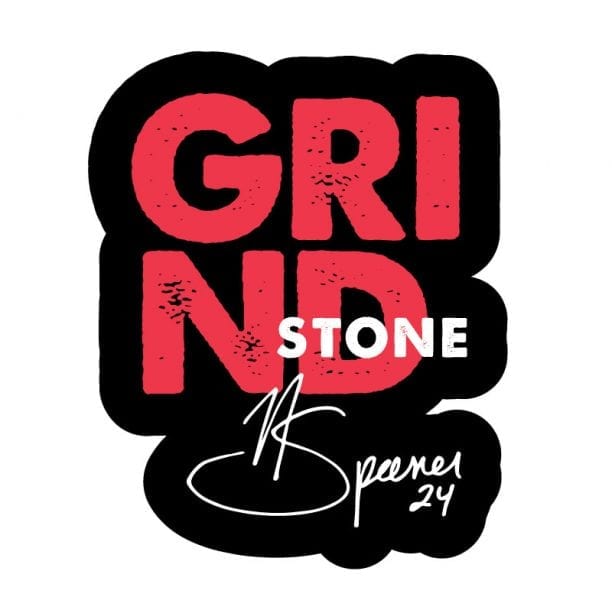 Does it make you feel responsible, like that you have to make it better for the kids that are coming up through the system?
SPOONER I'm not sure if responsible is the right word. I feel motivated by it. I feel like I've been given this voice for a reason. Hopefully, I can use it to better the future.
I don't think I would be doing myself justice and wouldn't feel like I've used my full potential if I sat back and played hockey and was just a hockey player. I want to be more than a hockey player. I want to help the next generation and leave my footprint.
Is that part of the reason why you travelled to India recently with Water Aid Canada and why you work with charities and give back?
SPOONER For sure. With every charity that I've worked with, it's been so rewarding to know that I'm able to help other people. There are so many things that you can do in your life… you know, I play hockey and I never really thought that I would be here playing hockey or playing for the national team.
But it's exciting because you do have this voice that you can use to share and to spread a message, whatever that message is. Obviously, my biggest one is hockey and girls and sports.
But with India, going there with Water Aid, there are people over there that are much worse off than we are here. It was very eye-opening to realize just how grateful we should be for what we have here in Canada. It's just a whole other world there.
Please finish this sentence: I play hockey because… 
SPOONER I play hockey because I love it and when I'm on the ice, I don't worry about anything else. I just feel free and I like scoring goals. [Laughs]
Do you remember the moment that you fell in love with hockey?
SPOONER I think I fell in love with hockey on my backyard rink where there was no pressure and it was just me and my brothers. We had so much fun out there.
You know, we were out there every night. We put the Christmas lights up around the boards and there were spotlights. We had our own little rink under the bright lights in our backyard. I think that was the moment where I really felt I loved playing.
Is that a key thing you'd like to pass on the kids, you know getting back to just having fun?
SPOONER I'm the type of player, that when I'm having fun is when I'm trying my hardest. When you're free out there, you're just loose. I want kids to have that and to play all different sports and just enjoy playing.
I mean it is a sport at the end of the day; it's a game. Go there and have fun and that's when you know you're going to be your best.
TO DO: THIS WEEKEND
✅Meet @NatSpooner5
✅Get Nat to ????️ my jersey
✅Eat ????
✅Put on #hockey gear (first time!)
✅Play 1⃣st hockey game!!!#GrindstoneCharityWeekend #HockeyTwitter #WomensHockey pic.twitter.com/WJL5Wa4UMl

— Grindstone Award Foundation (@GrindstoneAward) July 21, 2019
Is there anything that you would change about the way we develop female hockey players in Canada?
SPOONER You know, I think that the development has definitely grown a lot. When I started [with Team Canada in 2008], it was the first year there was an Under-18 Canadian [women's] team. So, it's kind of cool now that we have the World Juniors for women. It has definitely come a long way.
You know, I still think there's this difference between boy's and girl's hockey and you have to realize it's a bit of a different sport. Be excited to watch girls play hockey because it's a skill game. It's fast. [Women's hockey doesn't] have hitting but I think that's what is so special about the game.
There is still that taboo where people are comparing girls and boys. I don't think they should be compared, because they are different. I think that girls should be acknowledged for how good they are and be seen as athletes.
What was the best advice you've received from a teammate?
SPOONER The best advice I've received from a teammate would be from Hayley Wickenheiser. It was before the 2014 Olympics. I was so nervous from head to toe and she just looked at me and said, "Don't worry what anyone else thinks out there. Just go out there and play your game." And to know that she had confidence in me, gave me confidence.
Before that, I was thinking, "What does everyone think? What if I mess up?" As soon as she said that, I was just totally relaxed and was just like, I'm going to go out there and play how I know. I'm just going to do my best.
Do you have a favourite 'Spooner selfie'? We all know you're famous for that.
SPOONER I don't have a favourite. A few weeks ago, I was in San Diego and I took a selfie with a seal. [Laughs] That was pretty cool.
At the Olympics, it was a cool selfie. I love the picture day selfie because everyone looks so good. I'm not sure if I have a favourite. I'll have come back to you on that. I'll have to look through them all.
How did the 'Spooner selfie' start?
SPOONER I was just really into selfies. I always used to take a lot of pictures. I was into Instagram and so I'd always just take selfies for Instagram and then it became the 'Spooner selfie' and now I feel like it almost has to happen.
Did you ever have to go through financial struggles growing up where your parents had difficulty putting you in hockey?
SPOONER If they did, they never showed it. Growing up, I had three older brothers who all played, so they did manage to put us all through hockey.
I did get all their hand-me-down equipment which was actually nice because it was broken in and I didn't have to worry about getting new equipment.
I was very fortunate to be able to play sports and to be given the dream and told that nothing could hold me back, which I think is really important for kids to feel. I believe every girl should have the opportunity to play no matter their financial situation.
__________________
RELATED- NHL.com: Spooner headlines annual Grindstone charity weekend
__________________