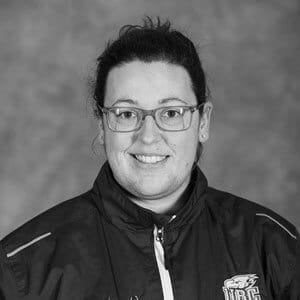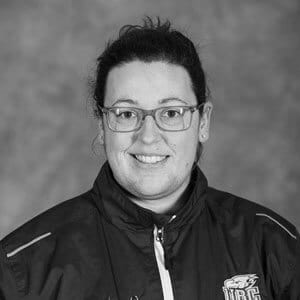 KELOWNA | The Grindstone Charity Award Foundation is pleased to announce the hiring of Dominique Di Rocco as the Charity's first General Manager.
The Charity is very excited to be able to add a full-time resource that will be integral in orchestrating the Charity's reach and ability to provide funding to as many Canadian female hockey players as possible.
Previously, Di Rocco spent three seasons with the UBC Women's Hockey program (USPORTS) serving as Assistant Coach, capturing two Canada West Championships (16', 17') and two National Medals (16' Silver, 17' Bronze) with the Thunderbirds. Di Rocco is also an Alumni of the UBC Women's Hockey Program and has spent most of her career giving back to female hockey in the province of British Columbia.
"We want to become a household name across Canada, but most importantly be known to the families and players who need financial aid. With the growth we have experienced in this past year, Dom is the perfect person to help build the solid, mutually beneficial relationships we need to ensure we can give as many girls the chance to play the sport that the board of directors, and myself, are so passionate about" said Danielle Grundy, President of the Grindstone Award Foundation.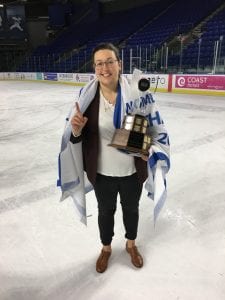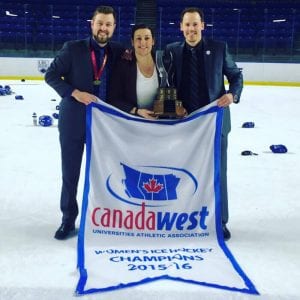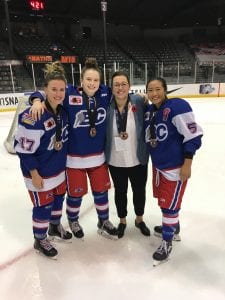 In addition to coaching, Di Rocco led efforts in Community Engagement between the UBC women's team and local youth associations, spearheaded social media and team promotion creating enhanced viewership and increasing in-game attendance. She has also served as point person for UBC Alumni Communications, holding a seat on the Women's Hockey Alumni Executive as a direct connection to the current program. Di Rocco also worked with the Delta Hockey Academy (CSSHL) and was a key part of bringing female academy hockey to the Lower Mainland.
"I am extremely excited to be stepping into this role with the Grindstone Award Foundation, the work that can be done to close the financial gap for female hockey players is something I am very motivated to do," says Di Rocco.
"I am most impressed by the momentum the Charity has gained in its relatively short time in existence. There are so many people wanting to give back to this important cause" she adds.
The Grindstone Award Foundation recently awarded 30 grants to young female hockey players across Canada. The Charity enables young female players under the age of 19 to participate and improve their skill development in the sport of hockey. The intent is to provide support to communities across Canada and address the needs of players who have a desire to play, but are unable to for financial reasons. Selection is based on financial need and desire, not on hockey ability. If you would like to get involved or know sponsors who would like to help further our cause, please reach out.