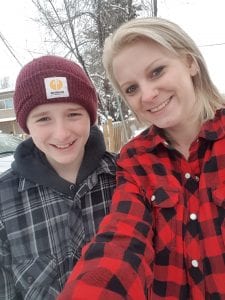 No bond is stronger than that of a mother-daughter team.
For Tessa and Austyn Williams, this bond is the strongest when it comes to overcoming obstacles that prevent Austyn from pursuing her passion for hockey.
The story of Tessa and Austyn hits home with Grindstone's mission statement to support young female hockey players who have the desire to play hockey but are unable due to financial reasons.
The Love For Hockey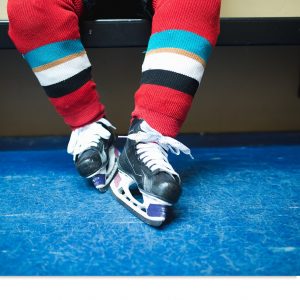 Austyn first approached her mom about playing hockey when she was 5 years old. "I became interested in hockey by watching NHL and WHL games on TV, and live games, like the Rockets," she remembers.
Tessa was a cheerleader in high school and loved to snowboard, skate and play soccer. Having experienced the positive effects of sports, her daughter's desire to play resonated strongly with her. As a single mom on a tight budget, Tessa couldn't afford the fees and other expenses associated with the sport. But not being able to jump into the world of hockey right away didn't stop Austyn from making the most of what she had and finding ways to play hockey for fun.
The Big Break
In 2017, Austyn won a free one-year registration with the Kelowna Minor Hockey Association (KMHA) for the upcoming season, given away at Grindstone's Girls Rock The Rink event. For both mom and daughter, the KMHA registration gave hope that Austyn's dream to play pro-hockey one day was not farfetched.
Austyn ready to score the game-winning goal

"The impact is has had on our lives can't be described," says Tessa. "Our life is more hectic now but at the end of the day the reward and the smile on my daughter's face is worth ever early game, every practice and every long trip to a weekend tournament."
Despite the two having a much busier schedule these days, Tessa has noticed significant positive changes in Austyn's behaviour as well as her overall wellbeing.
Austyn is proud to have learned to skate faster and not being afraid of getting in there and playing hard. Her mom adds that her daughter's stick handling is amazing, and she is very determined to make it to all practices and games, rain or shine.
"It feels really good to step out on to the ice and play with my teammates," says Austyn. "And I love the feeling I get when we win and I get a goal."
The Hockey Stories
For Tessa, her thoughts and feelings when she sees her daughter put on hockey gear and step on ice change from jumping through the roof when the team wins to wanting to run down and comfort her when she gets hurt.
"One of my many stories of our hockey experience is when I saw my daughter score for the first time," smiles Tessa. "We were tied 1-1 and my daughter got her first goal which also turned out to be the winning goal. Seeing all her team mates skate up to her and tackle her down, I knew at that moment she was where she belonged. She also received MVP for that game, I was so proud of her."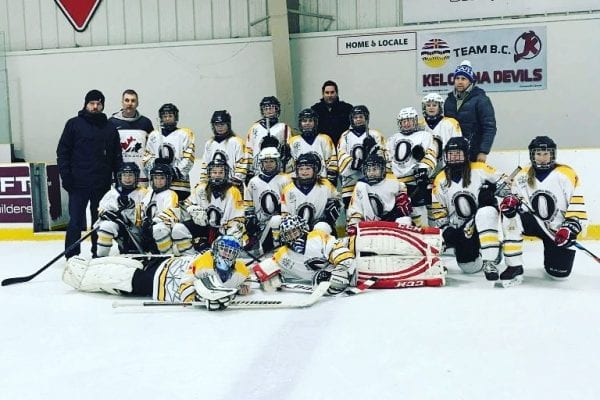 To top off Austyn's success in hockey, her team won the Canada 150 trip to Ottawa. They created a video showcasing the team and during one of their practices the coaches announced the team had won.
They captured their overjoyed and stunned reactions on video and sent it to the organizers along with a heartfelt thank you. Tessa is proud and happy for each of these once in a lifetime experiences.
"I honestly can't ask for a better team and coaching staff for my daughter, we're blessed to have them."
The Coach
The KMHA head coach Quintin Laing is one of the people that have left a huge impact on Austyn and other young female hockey players.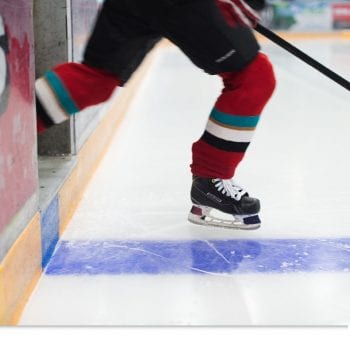 With his dad being a professional hockey player, the sport is in his blood. Quintin played professional hockey for 15 years before he began coaching. Since then he has seen much more confidence in young female hockey players and more dedication to get better.
"Young female players are more excited to go to the rink and about the possible future if they work hard and are committed to the sport," he says. "There are many exciting opportunities for young female hockey players."
Tessa adds that because of the opportunity to play, Austyn is now looking forward to further her hockey career and become a female hockey star and role model for other young players like herself.
How did Quintin feel about Austyn winning the KMHA registration and her team's trip to Ottawa?
"We were very excited for Austyn! It shows that good things happen to good people," he shares. "The trip to Ottawa was a once in a lifetime moment and is something that Austyn will remember for the rest of her life."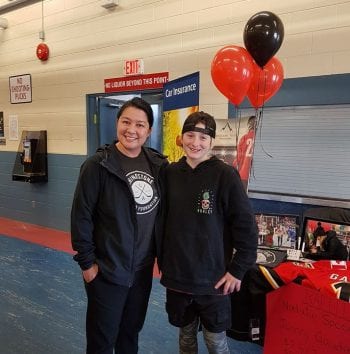 The Grindstone Impact
Quintin, Tessa and Austyn all agree that Grindstone's impact on the game goes beyond financial support. As a team sport, hockey teaches how to build trust, sportsmanship, responsibility and accountability, and how to be mentally tough and stay positive even when things aren't going your way.
More than that, the friends made in hockey often turn into lifelong friendships.
If there was any advice Austyn would give other young female hockey players, that would be, Play hard and never give up! Her mom adds, "My advice is to go out there, have fun, do your best and be the best you can be, it's very rewarding at the end."
Written by Elina Briezkalne