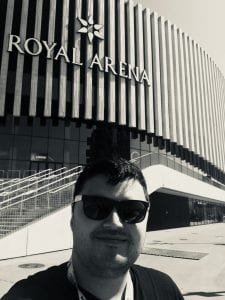 Chris Tanouye, League Photographer for the CWHL and photo editor for the IIHF/HHOF will be flying west to capture the amazingness of our charity weekend.  He just got off the plane from Denmark covering the World Hockey Championships, and his next stop will be Kelowna. We will have more details to come on how you can get in front of his camera at the event. 
Chris graduated from Durham College in 2014 from the Digital Photography program. Since graduating has become the League Photographer for The CWHL and team photographer for the Toronto Furies. In addition to my work with The CWHL I am a Photo Editor for the IIHF/HHOF and have covered in the last 2 seasons: World Junior Championships, Women's World Championships, U18 Mens (x2) and Women's World Championships and the last 2Men's World Hockey Championships in Paris, France/Cologne, Germany and this year in Herning/Copenhagen, Denmark.
The Grindstone Award Foundation is so thankful to have a photographer as talented as Chris, volunteering his time to support our vision and mission. Thank you for helping us and being apart of the journey to change the voice of female hockey. 
For his some of Chris' work and portfolio, please head over to his website at www.christanouye.com.