By Aly Couch
It was two weekends of sun shining down on the picturesque mountain community of Whistler, B.C as 24 women's hockey teams hit up Meadow Parks Sports Centre for the Whistler Spring Fling Tournament.
The two-weekend tournament hosted three divisions from May 4 to 6 and May 11 to 13 and included a try hockey-for-free event, open to girls and women of all ages. All proceeds went to the Grindstone Award Foundation.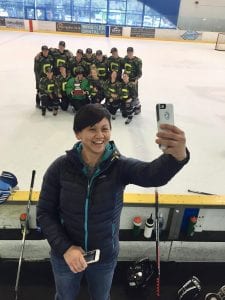 Tournament organizer, Melissa Talaro, spearheaded the tournament as a way to give back and make a difference for young female hockey players by donating all the proceeds to the Grindstone Award Foundation. Looking back on the experience, Talaro says she's happy with the accomplishment and all the support she received from players and volunteers.
"After the first weekend and into the middle of the second weekend, I was like, 'we did this,'" she says. "People were giving me so much feedback. They want this to succeed, they want to make this better, and they love the cause. Everybody is interested about the Grindstone."
The two weekends were all about providing opportunities for women and girls of all ages and from a variety of hockey backgrounds to get together, compete, learn or even just try gearing up in equipment for the first time. There was an afternoon barbecue, beer gardens with a prime seating area to watch games, MVP prizes and the coveted Spring Fling Cup.
Talaro says her favourite moment of the tournament was during the try hockey-for-free event when she saw the excitement on the faces of the young girls trying hockey for the first time.
"I just saw these two little girls and they had the biggest smiles on their faces. I think that's when it hit me, what we were doing,"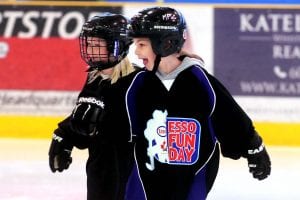 "I just saw these two little girls and they had the biggest smiles on their faces. I think that's when it hit me, what we were doing. They were so happy with their jerseys, they were so excited when they were getting their skates and when they finally got on the ice – they were just super happy. I could see their smiles through their helmets. That was a good accomplishment." says Talaro.
The event attracted players from the Sea to Sky Corridor ranging in skill levels and ages seven to fourty seven. For Grindstone Board Member, Christina O'Reilly, it was the chance to try something new as an adult as she stepped on the ice for the first time in head-to-toe hockey gear. Something she says she never would have done if it wasn't for this event.
"It felt pretty empowering".
I think knowing in advance that I was not a strong skater, I didn't know if I was going to be able to stand up," she laughs. "I was like, 'yay for me.' I'm proud of myself that I actually did something that I knew would probably make a complete fool of myself but it was very much in a safe environment. The coaches were very encouraging of everyone at the rink."
Grindstone Award Foundation founder, Danielle Grundy led the try hockey event with the support of midget-level coach Michaela Case, University of British Columbia Thunderbirds assistant coach, Dom Di Rocco and former Mercyhurst University player, Dani Ayearst.
"It was really nice to go back and give back and meet some of the girls that were in the same boat as I was," says Ayearst, who grew up playing hockey in Whistler. "I talked to one girl who has been playing boys hockey in midget so I was able to give her some insight into what she needs to do to potentially get into girls hockey and move forward and try to get a scholarship, if she wanted to."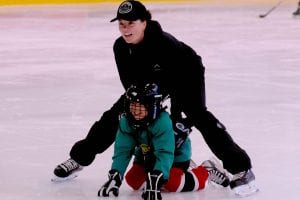 As a player in the tournament, Ayearst says the weekend was a "fun time" and admits it was even better to pull of a win in the "A" finals with her team, The Crush.
"Third year in the tournament and we've lost the last two in the final and then finally pulled of a win this time, so it was good," she laughs. Joining the Crush as champions in their respective divisions and hoisting the Spring Fling Cup were the Patriots in the "B" Division and Blades of Glory in the  "C" Division.
For teams wanting to compete in the tournament next year, Talaro says she is already thinking about new ideas and ways to make the experience even better.
"I think we could have more teams at some point, and look at opportunities to make it something else. Somebody mentioned making it more about the hockey community and having something outside where people can mingle. I just have to look outside the box and try something like that next year," she says.
Later this summer, the Grindstone will host their 2nd Annual Charity tournament/Weekend from July 20-22, where they invite female hockey players of all ages to join them in Kelowna for another fun weekend on the ice in their two events: Girls Rock the Rink and the Women's Tournament.
To sign up for these events and to support their cause, please check out their website at www.grindstoneaward.com.