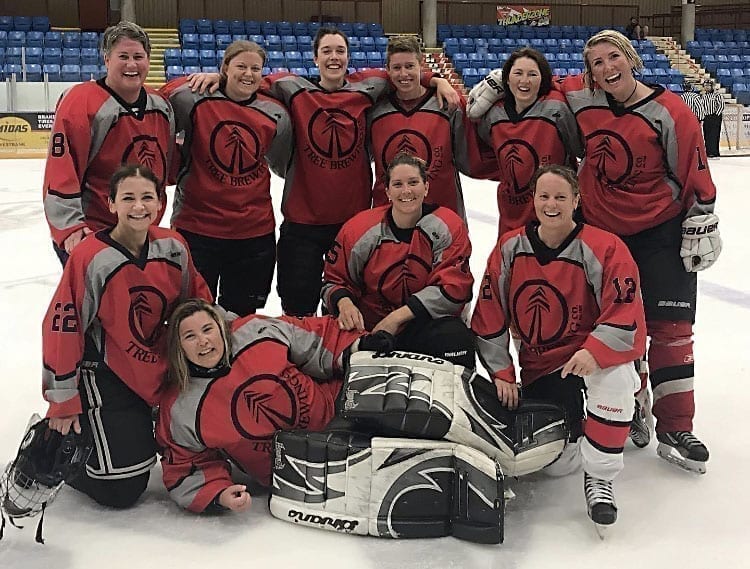 Just as many great ideas have been dreamed up before, the concept to provide funding to youth female hockey players came from the chatter amongst players in the confines of an arena change room.
It was an especially poignant conversation for Sasha Podolchak, co-founder of the Grindstone Award Foundation, which provides young female hockey players grants to break financial barriers that otherwise would keep them out of the game.
"I was sitting in the dressing room at three-on-three hockey and I looked around and realized how amazing hockey is. Not just the sport, which I love, but how I got to know such a welcoming, diverse, and strong group of women sitting around me because of it," said Podolchak.
Not given the opportunity to play hockey when she was in her youth, Podolchak picked up the sport as an adult living in the Yukon. She followed hockey and knew the rules, but it was in borrowed equipment and second-hand bought skates that she took her first wobbly steps as a player on a frozen pond. It was here that she truly fell in love with the sport.
Podolchak joined a women's recreational league in Whitehorse and eventually moved back to Kelowna, B.C., where she found a community of women who also had a passion for the game.
"So there we were sitting in that dressing room and I thought out loud, we should pool our money together and help some local girls that need financial assistance to play hockey. All the players were talking about it and I realized this was actually a really good idea," said Podolchak, recalling the conversation.
Grindstone empowers women and girls in hockey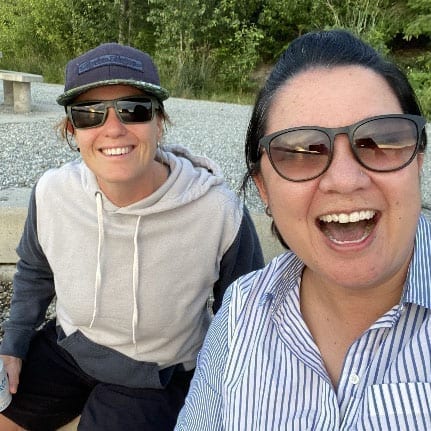 One person she knew that had many connections to hockey was Danielle Grundy, co-founder of Grindstone Award Foundation. Grundy was a graduate of Dartmouth College, where she played women's NCAA Division I hockey for the Big Green. She then went on to play professional hockey in Switzerland and was a successful business owner in Kelowna. Around a kitchen table, the pair stick-handled the idea into action. In a few short years they went from sponsoring one girl to 10, and were contacted by a Sportsnet producer. A film crew swept into Kelowna and Grindstone found itself on the national stage with a segment on Hockey Night in Canada.
More volunteers were needed as they handed out 10 grants to players in 2017, and the first Grindstone Charity weekend was held a few months later. Grundy began looking for people to create a board of directors, as now things were moving at a quick pace for the charity that started with a few ideas tossed around like sock tape in a little change room.
"It wasn't just us that helped this along. It really is the women who donated in the Kelowna adult hockey league that helped us get this off the ground. Now, it is just, wow. The success has blown my mind," said Podolchak, who had to step away from the charity after putting a few years of blood, sweat, and tears into it. "Over 100 girls have now been the recipient of funding that comes in from across the country. It truly is touching that all these people have volunteered their time to ensure this continues and into something bigger than I ever imagined it would be."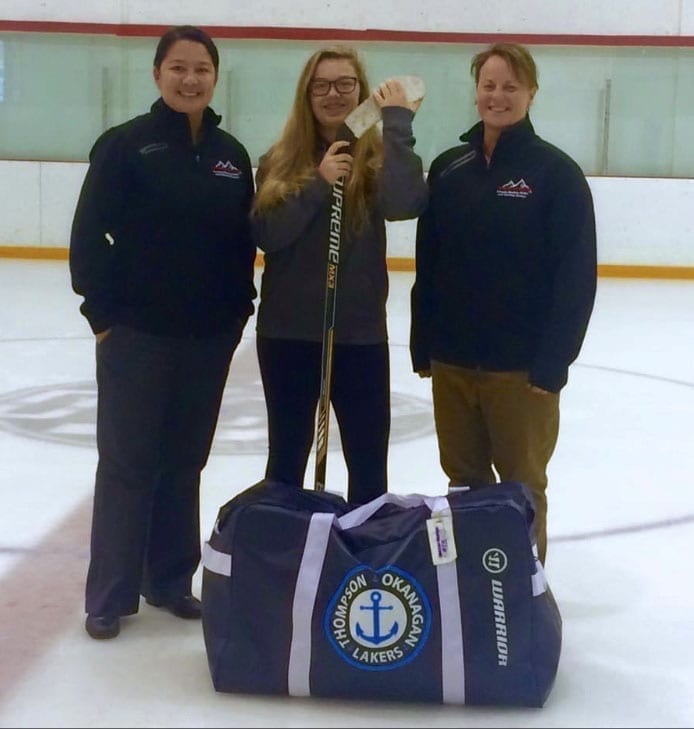 Today the foundation continues the mission of the co-founders – to provide an opportunity for young females to be a part of a positive experience, to learn teamwork, to create friendships, to learn how to win and lose, how to be part of a team, and have the stability of good people around them through sport.
"It just shows what can happen when a bunch of people that have a passion for something can accomplish and the goodness that exists in everyone's heart. Everyone, in some way, wants to give back. I encourage people to do that by donating to Grindstone. There is a need that exists across our country for this. Grindstone is an avenue to make a difference and empower women and girls — whether they donate, volunteer, or are a recipient of a grant," said Podolchak.
"As an adult that has now played the game, I wish someone would have seen my desire and gave me a chance in my youth. It is why every dollar, every ounce of support given to Grindstone means so much. We can't let another young person, with such a great passion to play, be kept out of the game and not experience all the great things hockey can provide."
Grindstone has set a goal to raise $20,000 to help get more girls on the ice next year through their grant process. If you'd like to make a difference in a young girl's life and give her the gift of hockey, please consider donating to the Grindstone Award Foundation.