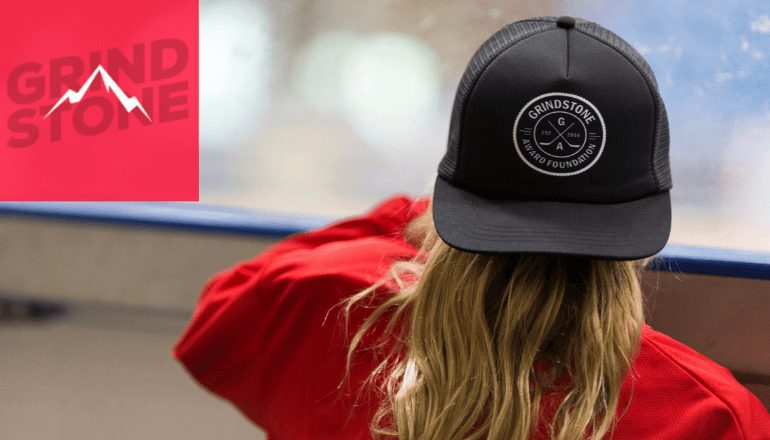 FOR IMMEDIATE RELEASE
Oct. 8, 2020 — What started as a way for two B.C. women to support a young female athlete in their community has spread to a cross-Canada initiative over the past five years.
The Grindstone Award Foundation provides grants annually to Canadian female hockey players under the age 19 of who have a desire to play, but are unable to because of financial reasons.
This year, they are celebrating a milestone, having provided over 100 grants in the five years since Grindstone was founded.
"I am ecstatic that Grindstone has achieved such an amazing milestone," said Laura Oliver, president of the Grindstone Award Foundation. "Over 100 girls have been given the opportunity to play when they would have not been able to otherwise. Today, I am honoured to say that we have contributed to help grow the game with 100 more girls playing hockey. I am so proud that Grindstone is part of that movement. I am truly thankful for every dollar donated and every hour volunteered that has enabled us to reach this significant milestone."
In 2014, Grindstone founders Sasha Podolchak and Danielle Grundy set out to ensure young female hockey players are given the same opportunities they had to participate and gain positive experiences.
"We started with one grant for a player in Kelowna, B.C. and seeing the impact it had on her, we knew we had to reach further," said Grundy, a alumnae of the Dartmouth College Big Green women's hockey and former professional women's hockey player in Switzerland. "A few connections were made with our hockey contacts and the next thing we know we are featured on Chevy's Power of Sport, broadcasted on Hockey Night in Canada. A strong board of directors was hand-picked and it didn't take long before Grindstone became a national movement, having a ripple effect on families across Canada."
Like many charities this year, Grindstone faced tough-decisions – including cancelling their signature fundraising event. In 2019, the annual women's hockey tournament and Girls Rock the Rink event held in B.C. featured Team Canada women's hockey Olympian Natalie Spooner as a guest speaker and instructor. That signature event raised just over $25,000, which translated to the opportunity for 50 young females to play hockey because of Grindstone.
Due to the COVID-19 pandemic, Grindstone's 2020 fundraising efforts were brought to a halt and they were limited to giving out a smaller number of grants for the upcoming season. Pivoting their fundraising plans, Grindstone is reaching out to hockey associations and businesses to discuss new ways of raising money to make sure young females who have the desire to play hockey get that opportunity.
"We have great people on our board of directors and volunteers that all have exciting and creative ideas that we are looking to partner up with associations or businesses for," said Oliver. "Our vision as a board is that every girl who applies for a Grindstone grant, receives one. With the 100 grants we have given out, we have seen what the power sport delivers to young females. From shy, quiet girls who found their voice, strength and confidence, to hearing first-hand from the parents of our Grindstone kids about how just a single season of hockey has transformed their child's life."
The annual grant process has passed for the upcoming season and will open again in the summer of 2021. Grant applications are filled out on the Grindstone Award Foundation website, reviewed by the board of directors, and then announced to recipients before the start of the new season to assist in paying for registration fees for the player.
To learn more about the Grindstone Award Foundation, to find out how your business can become a sponsor, or how you can personally donate, visit GrindstoneAward.com. You can also find Grindstone on Facebook, Instagram and Twitter @GrindstoneAward.
About Grindstone:
The Grindstone Award Foundation is an official Canadian Registered Charity that started in Kelowna, British Columbia, Canada. We are one of the first charity's of our kind in North America, that we know of, who solely support girls and women in hockey. Our heart is to provide support to the community by addressing the needs of young, female hockey players who have a desire to play ice hockey but are unable to for financial reasons. The charity started in 2014 by Sasha Podolchak and Danielle Grundy, who reside in British Columbia. Grundy is a former high-level, female hockey player who studied and played ice hockey at Dartmouth College. The foundation is a volunteer-led team. The Grindstone Award Foundation sponsored their first girl in 2015, we then sponsored two girls in 2016, 10 girls in 2017, 30 girls in 2018 and 50 girls in 2019. In our fifth year, in 2020, we passed the milestone of sponsoring over 100 girls since the foundation was established.