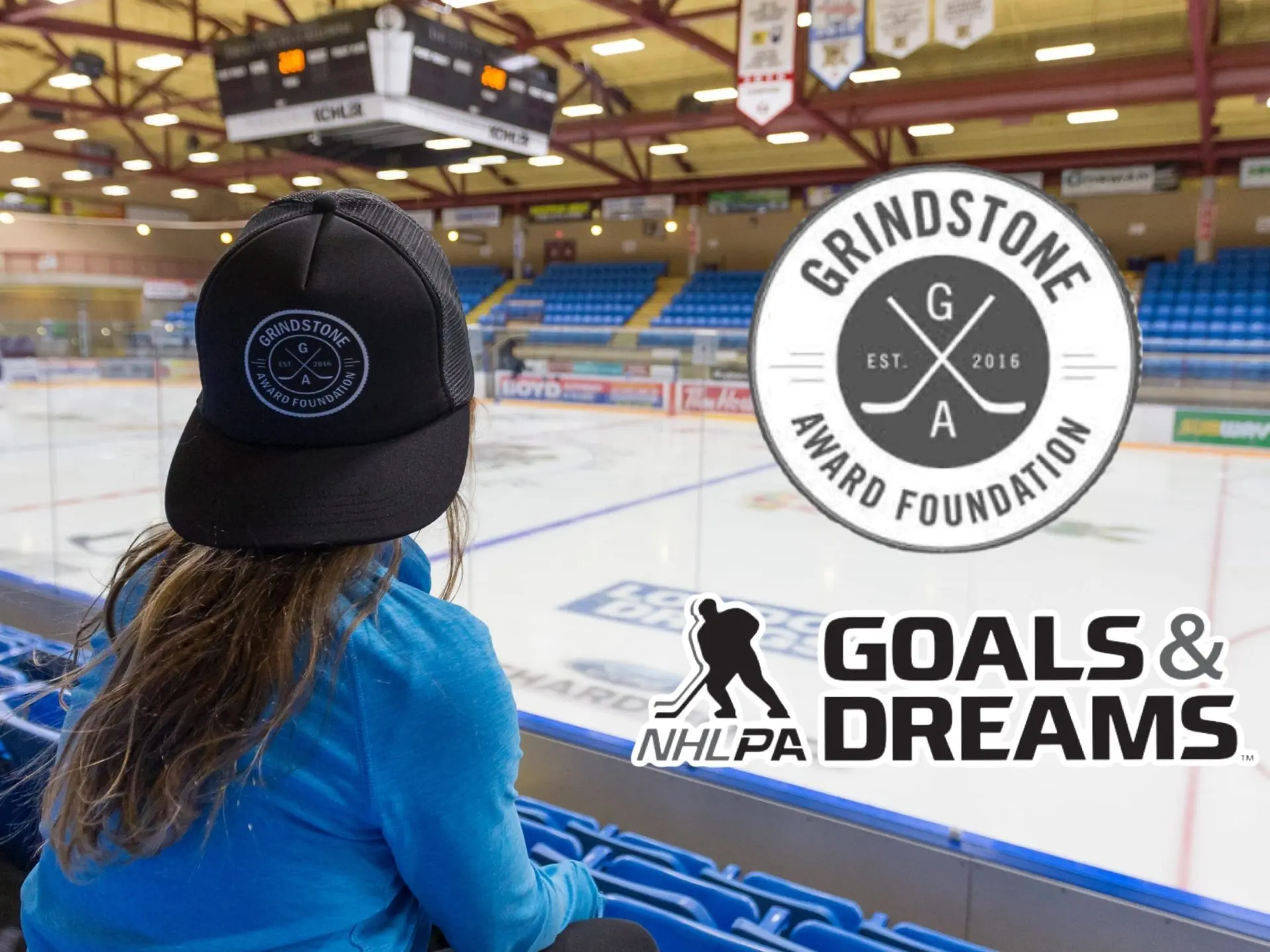 (MAY 14, 2021) – FOR IMMEDIATE RELEASE
The Grindstone Award Foundation announced today it has received a donation of 25 brand new sets of hockey equipment courtesy of the National Hockey League Players' Association (NHLPA) Goals & Dreams fund. This hockey equipment will assist the Grindstone Award Foundation in continuing their mission of breaking barriers so that youth female hockey players will have greater opportunities to get into the game.
"We are extremely excited about this partnership with the NHLPA because it will directly impact female hockey at the grassroots level, especially during a time when many families are having to make tough financial choices about whether to start their child in hockey," said Laura Oliver, President of the Grindstone Award Foundation.
The Grindstone Award Foundation provides grants annually to Canadian female hockey players under the age of 19 who have a desire to play, but are unable to due to financial reasons. Applications for the grants, which assist in paying registration fees for the player, opened on May 1 and are completed on the Grindstone Award Foundation website. Applications to receive equipment courtesy of the NHLPA Goals & Dreams fund, will be completed using the same process, and players and their families can apply at www.GrindstoneAward.com. The deadline for applications is June 30.
"While increasing awareness of female hockey and growing the game at the grassroots level, we have seen what the power of sport delivers to girls. Parents have shared with us how a Grindstone grant to pay for a season of hockey has transformed their child's life. We have also increasingly heard from parents about the need for financial assistance to purchase equipment. The NHLPA has now given us the ability to provide full sets of equipment, which will continue to lower the financial barriers and give more opportunities for youth female players to follow their dreams," said Oliver.
"The NHLPA Goals & Dreams program is excited to support the Grindstone Award Foundation's efforts in assisting more Canadian youth female hockey players participating in the game," said Devin Smith, NHLPA Goals & Dreams Chairman. "The cost of equipment is a big obstacle in hockey and the NHLPA's goal is to bridge the gap for less fortunate children by donating full sets of new equipment through the players' program, NHLPA Goals & Dreams. We are very proud of this new partnership with the Grindstone Award Foundation." ​
"Over the last 18 years, NHL players have donated more than $24 million to fund and assist grassroots hockey programs around the world. We've sent equipment everywhere from Australia to South Africa, Europe, Malaysia and North America. The biggest obstacle in participating in hockey is the cost of equipment. Our goal is to bridge the gap for less fortunate children."
-30-
About NHLPA Goals & Dreams:
Launched in 1999 as a way for the players to give back to the game they love, NHLPA Goals & Dreams has donated more than $25 million to grassroots hockey programs. Over the past 22 years, more than 80,000 deserving children have benefited from receiving NHLPA Goals & Dreams donations of full sets of hockey equipment. The players' program has also assisted with upgrades and the building of hundreds of arenas worldwide in addition to the hockey equipment donations. NHLPA Goals & Dreams donations have spanned a total of 34 countries to date. For more information, please visit www.nhlpa.com.
About Grindstone Award Foundation:
The Grindstone Award Foundation is an official Canadian Registered Charity that started in Kelowna, British Columbia, Canada. They are among the first charities of their kind, in North America, to solely support girls and women in hockey. As the female game continues to grow at both the grassroots and professional levels, Grindstone recognizes the importance of investing in the female game to reach as many players as possible and to produce a strong pipeline. Their heart is to provide support to the community by addressing the needs of young, female hockey players who have a desire to play ice hockey but are unable to for financial reasons. The charity was started in 2014 by Sasha Podolchak and Danielle Grundy, who reside in British Columbia. Grundy is a former high-level, female hockey player who studied and played ice hockey at Dartmouth College. The foundation, which is a volunteer-led team, sponsored their first girl in 2015, and in 2020, surpassed the milestone of sponsoring over 100 girls to play hockey.
For more information, please contact: