One of the best parts of the annual Grindstone Charity Tournament weekend is seeing the young participants at Girls Rock The Rink (GRTR).
At our 2nd tournament, we met Glenda and her 12-year-old daughter Emma. The only participants from Trail, both mom and daughter had an inspirational story to share of following big hockey dreams in a small Kootenay town.
The Challenge and Joy of the Game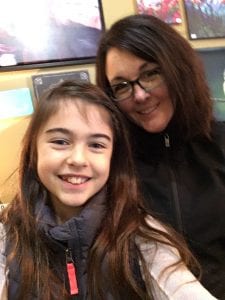 Emma started playing ringette when she was 8 years old. At the time, her family lived in Stonewall, Manitoba. A year later, more and more girls were signing up for hockey and Emma gave it a try.
"We had enough girls for two teams in my age group. After a few practices I decided I really enjoyed it and wanted to stick with it," says Emma.
In 2017 the family moved to Trail and Emma was fortunate to play the 2017/18 season for the only all-girls team in the area, The West Kootenay Wildcats.
Both Emma and Glenda enjoy being part of the hockey community in the Kootenays, especially because Trail and other towns around are very supportive of hockey teams for all age groups.
Back in Manitoba, there were always enough girls who wanted to play hockey, so Emma didn't have to play on a mixed team. It was a bit of an adjustment after the move to Trail, because there weren't as many girls interested in playing hockey and the ones who did were used to playing with boys. Lucky for Emma, her team ended up with enough girls for a team.
"The hardest thing was that we had to play against the mixed teams mainly made up of boys and so I had to learn to be a tougher player. I think I have sort of overcome that but I have to work on being quicker and tougher still. In the long run it has helped me. We only play all girls teams in tournaments when we travel."
Glenda sees many girls feeling like they should play with boys because they think it will make them better.
"This could be looked at a number of ways. Playing with boys will make you stronger but will you really have a chance to stand out? I think a lot of coaches do not know how to coach girls per se. You also do not get the off ice dressing room fun, as you are separated from your team," she shares.
The Strength Found in Hockey
One of the biggest life lessons Emma has taken away from playing hockey is that being part of a team and supporting each other is really important, both on and off the ice. She has learned to respect others more, and to always work hard.
And true to many role models in female hockey, Emma has grown her leadership skills and believes that making a commitment is important for improvement.
Glenda adds that setting goals is another great lesson taught through playing sports. As a competitive highland dancer for many years, she finds that it's a great lesson for athletes to start off small and then really see the results as they move along, and watch themselves grow mentally and physically.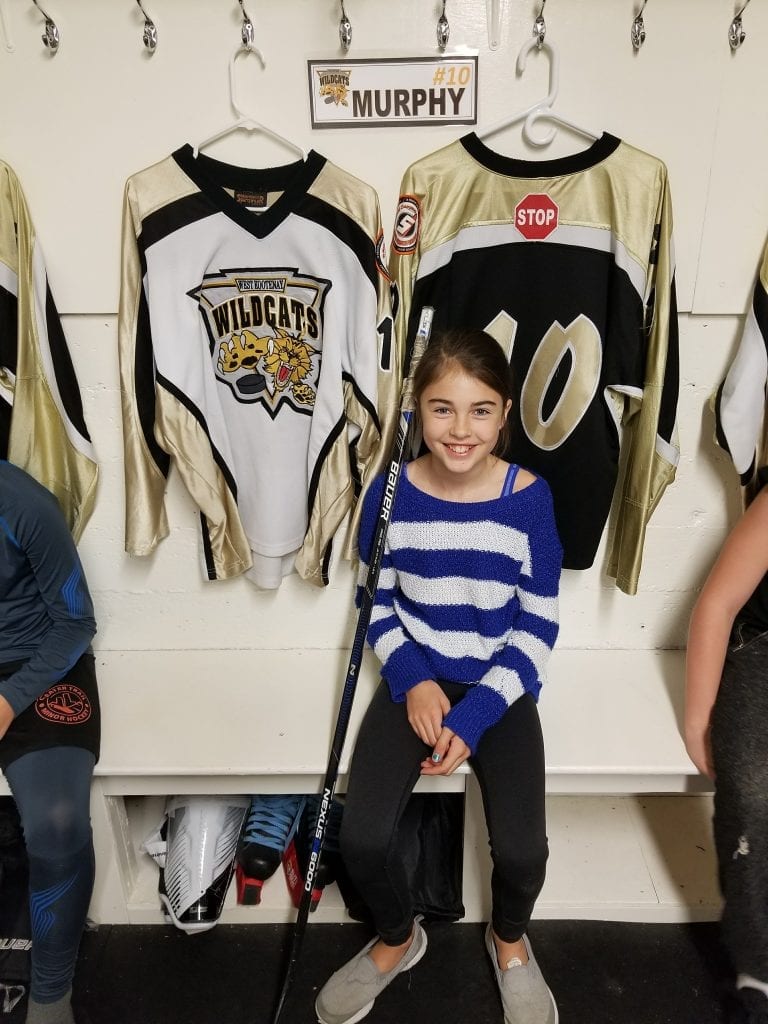 Takeaways From GRTR
At GRTR, and any other hockey event, Glenda is inspired to see how confident her daughter is and credits hockey as one of the reasons for it.
"On the ice she is a very hard worker and tries to motivate her teammates. Off the ice she is very compassionate and has genuine concern for others," says Glenda and adds that Emma is always drawn to supporting girls who want to play hockey.
Emma loves hockey, the friends she has made, and the great coaches. She loves putting on her skates and getting on the ice. That why she would wish to share this experience with more girls.  
Emma's words of encouragement for any girl who wants to play hockey but is afraid or too shy to try?
"I would like to let her know that no matter if you are small and feel you are not a good skater or strong enough but you really want to play then you should just try! You will learn so much from your teammates and coaches and make so many friends from playing. I love playing hockey. I think you just need a little support. Everyone starts somewhere."
The Message of Support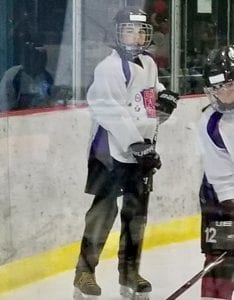 Glenda recalls that at GRTR she was impressed at how many girls were on the ice, both players and coaches, and how well everything was run.
She feels that given the opportunity more and more girls would really enjoy playing, and there needs to be more opportunities for girls to experience the sport the same way a boy would.
"It would be great if we could somehow bring the Grindstone Foundation to Trail in some way, big or small."
If there was anything Glenda could share with the hockey community than it's that so many great memories, support, and life lessons come from being part of a team, sports or otherwise.
"The Grindstone foundation is wonderful! I hope they continue to thrive and grow in the future and be able to support as many girls they can in order for them to experience the great game of hockey."
Written by Elina Briezkalne