Connections. It is one of the building blocks of the Grindstone Award Foundation.
Whether that is through the annual tournament in Kelowna where we have connected women's players from different provinces and states and brought moms and daughters onto the same teams to play together; our partnership with the Canadian Women's Hockey League giving Grindstone the opportunity to co-host three skills camps this season to bring young female players on the ice and behind the scenes to create meaningful relationships with their hockey heroes; or, our number one priority of connecting families who would not otherwise be able to afford to let their kids play hockey with the bursaries to get their kids back into the game.
While the Grindstone may not always be the starting point, being involved somewhere along the way to help build bridges in hockey is just as important. This is exactly the case for eight-year-old Brielle McDaniel and her family.
Where It All Started
Shauna McDaniel knows exactly how her young daughter turned a non-hockey family into regulars at the rink.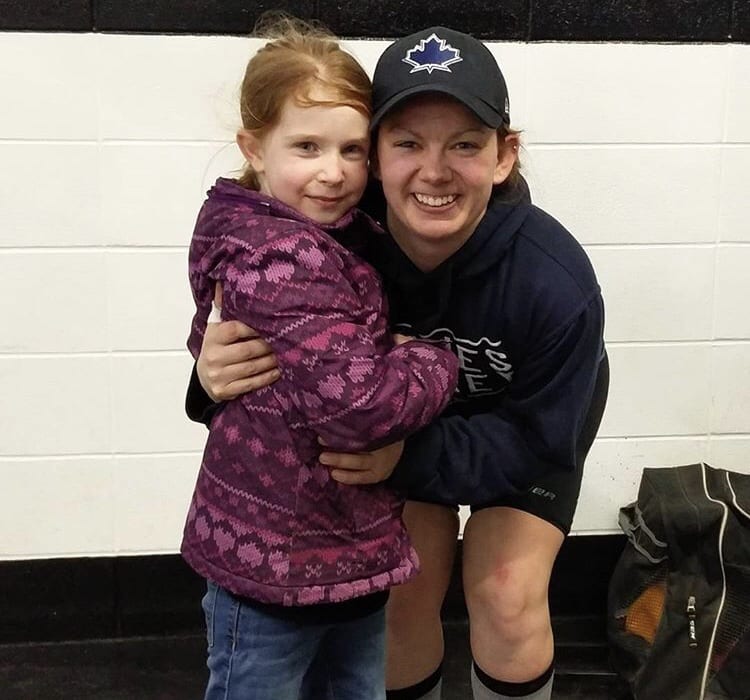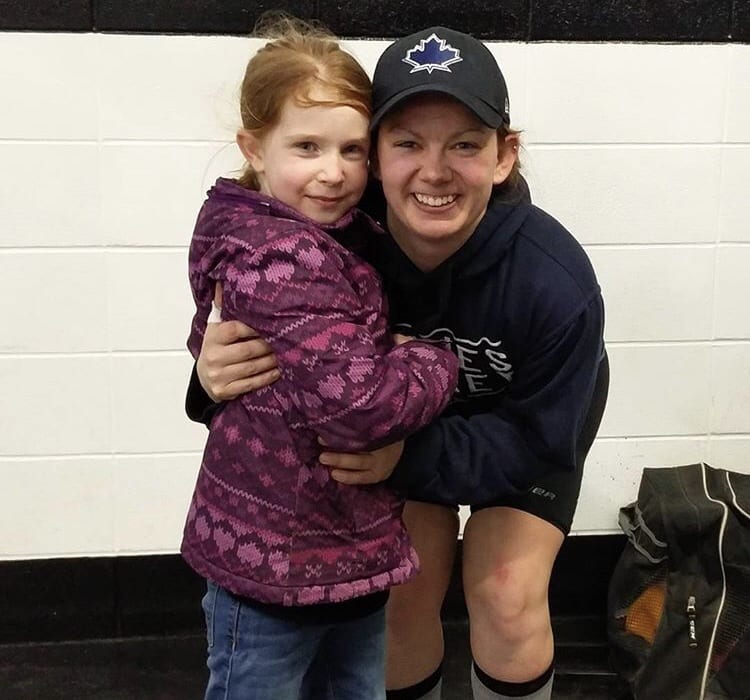 "You know when you hear you are having a girl, and you aren't a hockey family anyways, you don't expect to spend the rest of life in hockey arenas. But, here we are." said Shauna.
"Brielle took skating lessons at three and took to it like a duck to water. We kept signing her up because she was having such a good time and she continued into a kids rec hockey program. Now we are in her second year of Timbits hockey and my husband, who never learned to play hockey, also decided to pick up the game in a learn-to-play program for adults. He is on the ice three times a week now."
In 2016, Brielle had the opportunity to skate with the CWHL's Toronto Furies in the warmups before a game against the Calgary Inferno where she met then-rookie Erin Ambrose.
"I think Erin was the person assigned to watch over her, as each of the players were watching over a couple of kids. For whatever reason she just had this phenomenal impact on her from Day 1," said Shauna.
From that moment on every time Ambrose came to Calgary to play against the Inferno, Brielle was in the stands. Even if it meant the family was driving 65 kilometres through a snow storm to a remote rural game so she could watch.
"People thought we were the coolest thing ever when we skated together," said Brielle, explaining how her affinity for Ambrose came to be. "She is the assistant captain, she has got one of my favourite numbers (13) and we really got to know each other."
Ambrose also thinks, it is pretty cool.
"She was just giving it to me all warmup and I loved it. If I missed a shot on net she was calling me out in a heartbeat," said Ambrose.
The Trade
Through the Team Canada 2018 Winter Olympic Games centralization process, Brielle kept a close watch on Ambrose — making it especially tough when the defenceman was cut from the squad.
"Oh, she followed everything. We didn't get out to watch her live but we would be online watching. We even shed some tears when it didn't go the way we hoped for Erin," said Shauna.
Then trade news came in from the CWHL, Ambrose was sent to the Les Canadiennes de Montreal. A month later, Les Canadiennes headed to Calgary to play the Inferno. Brielle, of course, dotingly was watching from the stands. Ambrose took notice and gave Brielle an autographed pair of her game used gloves.
"Honestly, that was a tough time in hockey for me, but her mom had messaged me that she was ecstatic that I was coming to town. I had this set of gloves and was about to get new ones to match Montreal colours and knew how huge it was for me when I was a kid when someone would go out of their way to do something for me, so I autographed them and gave them to her," said Ambrose.
The few minutes spent after the game with her, automatically shot to Brielle's favourite moment ever.
"I slept with them on the first night, but then my nana and mom discussed it and put them on my bed posts. I still put them on though. I also have a mini-stick that she signed," said Brielle.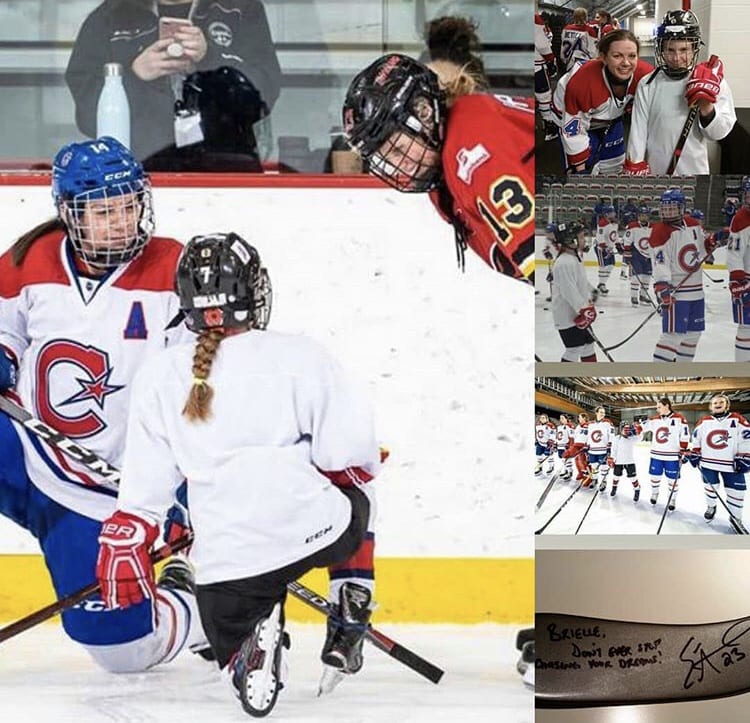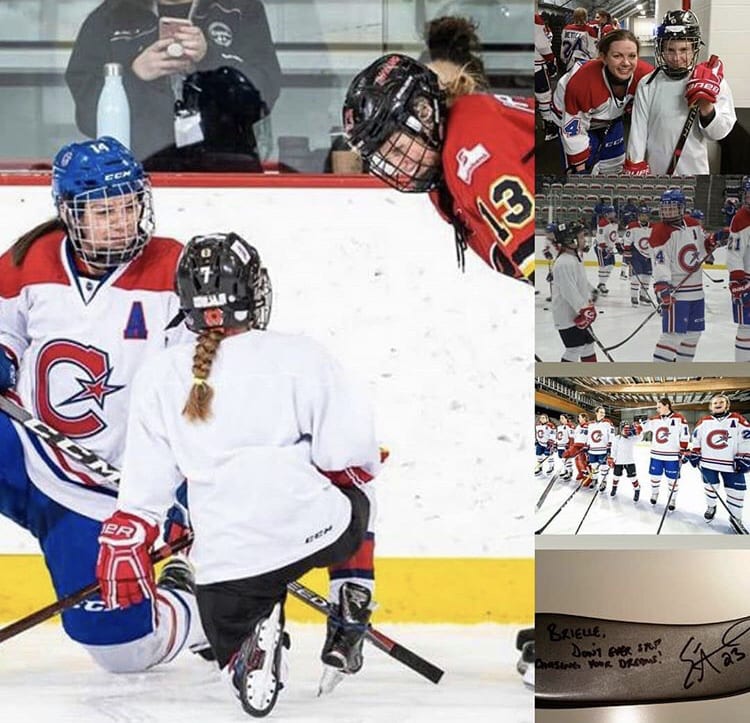 That hangs on the wall like a precious piece of artwork. The Calgary Flames NHL player Sean Monahan's autographed stick? You can find that stuck in a corner in her bedroom.
The Social Media Squabble and Grindstone
It is difficult living in a city with a CWHL team and loving a team and player that is on the other side of the country.
"I think we are so lucky to have a women's league here. I can take my daughter to watch top level hockey and there are so many kids out there that don't have these easy of access to the league and love the game so much. Being able to hop in the car and take her to a women's game is fantastic," said Shauna.
The Inferno was bound to ignite some sort of devotion out of Brielle, given how many games she had been to whenever Ambrose was in the city. The family heard about the skills camp the Grindstone was hosting with the Inferno and Brielle asked to go. Similar to how she met Ambrose, in skated the Inferno's No. 13 (one of Brielle's favourite numbers) — Kelty Apperson.
And the battle on Instagram began. First with the Grindstone reminding Brielle to bring her Inferno No 13 sign to the next home game they play. However, that was against Les Canadiennes. Ambrose replied on social media that she can't wait to see Brielle, that was followed by Apperson chiming in that this would be a battle for Brielle's affection. Ambrose chirped back that the would have to see who she makes a sign for.
It was while at the Grindstone camp Shauna connected with the Inferno manager and helped arrange for her daughter to do the warmup skate with the Canadiennes. Brielle hit the ice and was approached by the team captain, who is also considered one of the best players in the world and is a three time Olympian, Marie-Philip Poulin. Her response is priceless.
"We had a good laugh about that. Here is Brielle with Poulin, a hero in her own right, and she looks her straight in the eye and and asks where is Erin?" said Shauna.
While the social media squabble was all in good fun, an epic picture took place as the two teams got ready to face-off.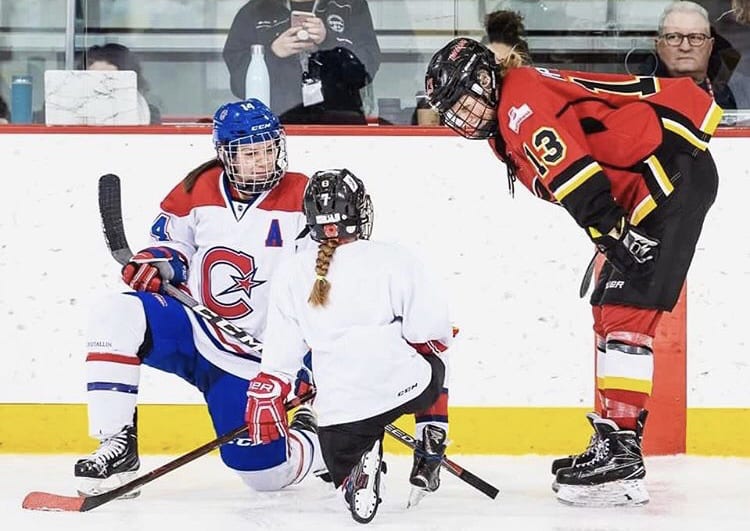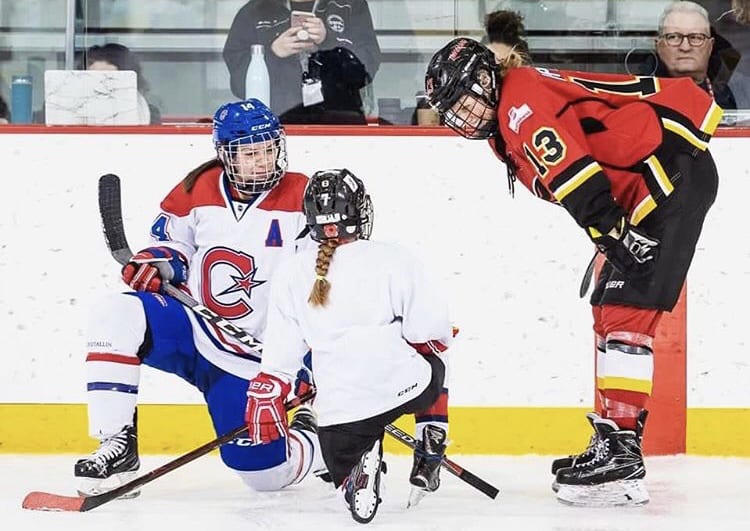 Ambrose, who off ice is friends with Apperson, said she couldn't help herself but start the social media war.
"I thought it was hilarious. I had to call her out on it. When I heard Brielle was doing the skate, I knew it was going to be fun," said Ambrose. "That photo with the three of us makes me so happy."
So what exactly were they talking about?
"We were laughing. I called Kelty over and said this is what loyalty looks like," said Ambrose with a laugh.
Showing the Path to Young Female Players
In not as many words, Brielle said she never knew girls could go on to play hockey at a high level as women. It was only through her bond with CWHL players Ambrose, and now Apperson, that she learned this.
At the Grindstone/Inferno skills camp the players conducted a hot stove panel taking questions and talking about their journey — cluing in Brielle that she can have big hockey aspirations.
"I think sometimes when you are the only girl on an all boys team the road to your dream can look a little rough," said Shauna. "It's good to hear from the women playing in the CWHL that they may have went through a similar process and that the kids are not alone. The trail Brielle is blazing right now is not new, but it is still good that she is hearing how other women did it."
For Ambrose, it was Canadian national team players like Cherie Piper, Cheryl Pounder, Cassie Campbell and Tessa Bonhomme that went out of their way to make a connection with her.
"If you can make a connection here and there, it can make such an impact. When we have these opportunities we have to make sure we take advantage of them. We always talk about how small the hockey community is and it is so true. For example, I know how much the Grindstone is doing and I thank them for all they do. Grindstone is providing another wave of connections and I know myself, and the other girls in the CWHL, appreciate it," said Ambrose.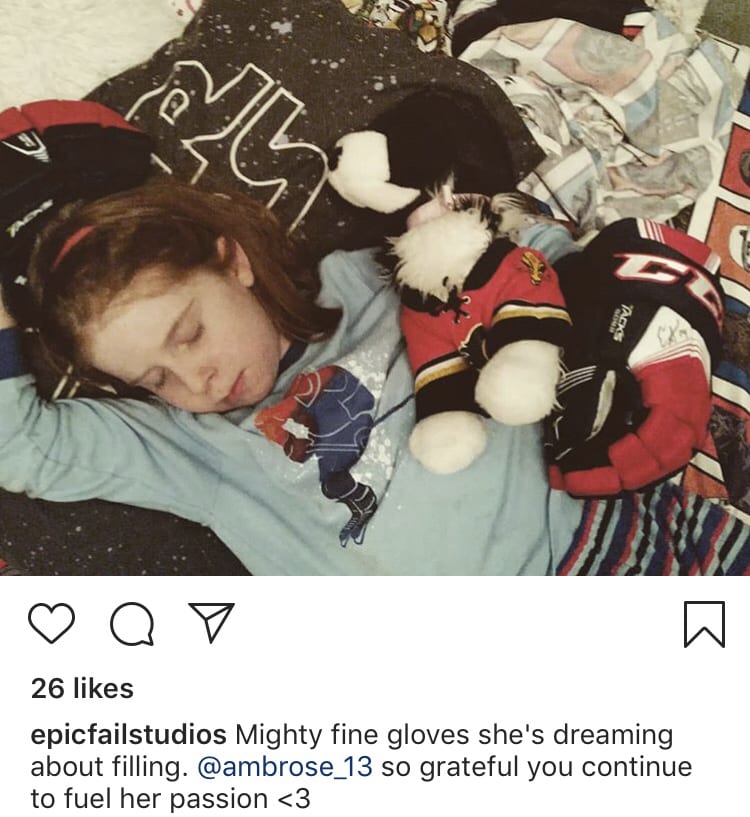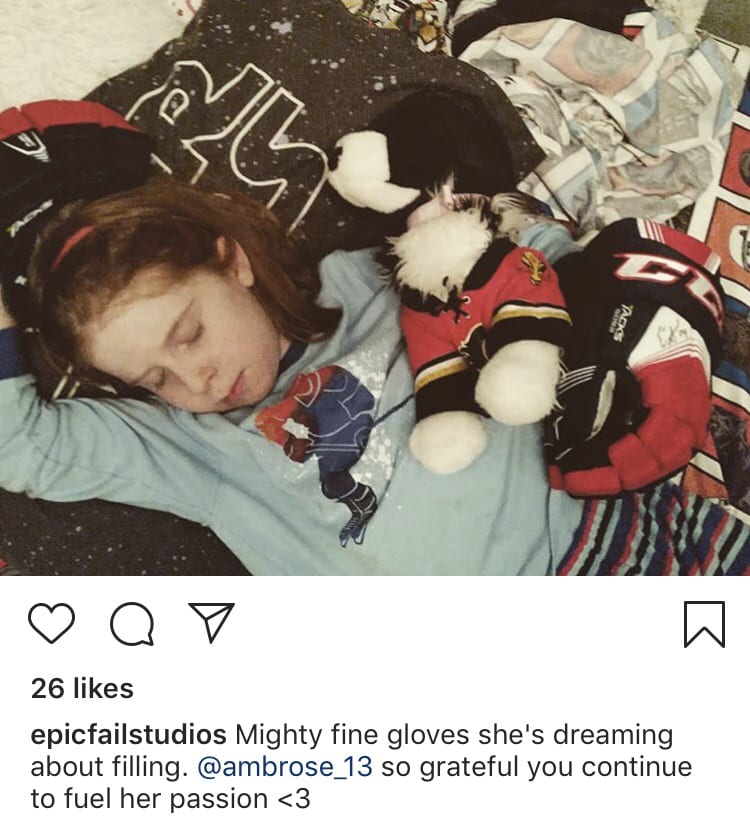 Connections, as we said earlier, is the way to create these positive environments that we strive for to make a difference in the lives of young female hockey players.
"It's irreplaceable. To have Erin not only be so accessible but so involved and interested in the kids is amazing. Amazing of all these players actually. They are showing these kids the route that is available to them and the goals they can set for themselves," said Shauna. "Of course these little girls have NHL players that they look up to as well, but in reality these women are showing them the route they can go. The women also all talk openly about how they got to the CWHL and how much work it takes to play hockey at the college level. You never hear NHL players talk like that. Kids are watching and listening to these women and understanding what it takes to follow their dreams."
Want to help make a difference in young female hockey player's life? Last year we gave out 30 bursaries, but there is a need for many more. Donate to the Grindstone Award Foundation and help us continue to grow the amount of bursaries we give out so female hockey players facing financial difficulties don't get left on the sidelines. Follow us on social media and share your hockey connection stories and photos by tagging us on Twitter and Instagram @GrindstoneAward and at www.Facebook.com/GrindstoneAwardFoundation.
Written by Kristi Patton