By Brendan Osborne
It was a simple action that would made a big impact for the Grindstone Award Foundation and a young BC female hockey player. What started as Women's Hockey Life sharing the Grindstone Award Foundation's message earlier this year on social media, turned into Isabelle Fortin being able to play the game she loves.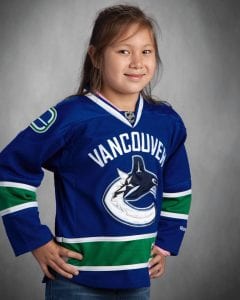 Heading into last year's hockey season, and in need of new gear, Isabelle was faced with the reality she may not be able to play because of the high cost of new gear. Not willing to give-up, she worked with her mom to fundraise enough money to purchase the gear.
"My Mom put together a salmon dinner fundraiser and I helped her prepare it. My favourite part was making the dough for the bannock." says Isabelle. "My mom also got the neighbours to bring in the returnables as well. We worked really hard and it was so much fun."
Going through a growth spurt over the summer, Isabelle was once again in need of new equipment and was facing a similar fate of not being able to afford gear. That's when she saw the Grindstone Award Foundation post on Facebook through Women's Hockey Life. She quickly filled out a grant application form and sent it off in the hopes she could receive the needed funds to buy the gear.
When Grindstone Award Foundation founder Danielle Grundy saw Isabelle's application she knew it was meant to be.
"Isabelle embodies what the Grindstone Award Foundation is all about, working as hard as you can to play the game you love and never giving up." says Grundy.
To Isabelle's delight she was selected as one of ten grant recipients in 2017 and that's when the "Journey of the Grant" began.
To celebrate the grant selections, the Grindstone Award Foundation team decided to take an exciting trip, travelling to Vancouver to surprise Isabelle and take her on an incredible journey. It was an experience they wanted to document as a way to inspire other female players and showcase what's possible when you work hard and never give up.
JOURNEY OF THE GRANT – PART 1
Thanks to the support of the UBC Thunderbirds women's hockey team, Grundy travelled to Vancouver to not only hand deliver the grant to Isabelle, but also take her on a once in a lifetime journey. Meeting at the Doug Mitchell Thunderbird Sports Centre, Grundy took Isabelle behind the scenes on game-day as the Thunderbirds prepared to take on the Kunlun Red Star female team from Beijing in a special exhibition game.
"Our program and it's athletes are excited about the direction that Danielle and company are taking the Grindstone Award Foundation and are looking forward to helping create awareness for this cause!", says Assistant Coach of the UBC Thunderbirds, Dominique Di Rocco.
JOURNEY OF THE GRANT – PART 2
Although the focus of the Grindstone Award Foundation is providing grants for female hockey players in need, it's not just about financial support. It's also about making dreams come true and inspiring young female hockey players to set big goals and achieve them. For Isabelle, that dream was to skate with the UBC Thunderbirds; thanks to the Charity, that's exactly what she did. It was an experience that inspired even bigger dreams, as Isabelle set a goal right then and there of one day playing with the Thunderbirds!
JOURNEY OF THE GRANT – PART 3
As the Grindstone Award Foundation works to provide support to communities across Canada and address the needs of players who have a desire to play, they know Isabelle's story and the "Journey of the Grant", is just one of the inspiring stories that grant recipients have to share. Their hope is to continue to share these inspirational stories and positively affect those young female players who have a drive and determination to play and at the same time help change the world.
"We want to be the change agent for girls and women across all levels of female hockey by changing the conversation and stories like Isabelle's help shine a spotlight on the amazing female players who are driven to play the game no matter what it takes," says Grundy.
For more information about the Grindstone Award Foundation you can visit www.grindstoneaward.com or on Facebook.