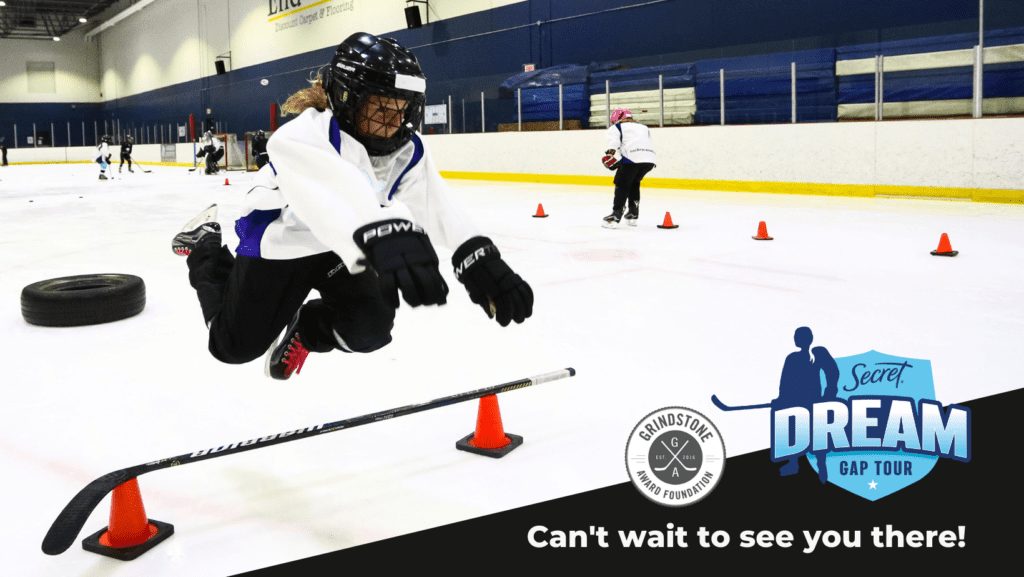 (October 24, 2021) – FOR IMMEDIATE RELEASE
The Grindstone Award Foundation is proud to announce that it will be collaborating with the Professional Women's Hockey Players Association (PWHPA) as one of their charity partners for the Canadian stops of the 2021-22 Secret Dream Gap Tour, as well as for All-Star Games against various women's national teams as they prepare of the 2022 Winter Olympics.
Grindstone will have a physical presence at each Canadian event, including the first stop of the tour in Truro, Nova Scotia, on November 12 and 13. A booth, including opportunities to purchase Grindstone apparel and to donate to Grindstone will be set up at each event. There will also be online opportunities to engage with Grindstone and the PWHPA through ticket giveaways.
"We are thrilled to have been welcomed by the PWHPA to participate in the Secret Dream Gap Tour this season," said Grindstone President Laura Oliver. "After participating in the PWHPA's last Dream Gap event in Toronto, we saw an increase in grant applications from girls in that area. We hope that by joining the PWHPA at the Canadian stops this season, more girls and their families will become aware of Grindstone and the financial support we provide to play hockey."
Grindstone is excited to partner with the PWHPA and be part of this exciting season of professional women's hockey.
About the PWHPA:
Professional Women's Hockey Players Association's (PWHPA) mission is to promote, advance and support a single, viable professional women's ice hockey league in North America that showcases the greatest product of women's professional ice hockey in the world. The organization aims to provide a united voice to players advocating for the creation of a sustainable professional league. PWHPA is working to accomplish its mission by coordinating training needs and programming opportunities and collaborating with like-minded organizations to make hockey more inclusive for women and future generations. To learn more about PWHPA and the Secret Dream Gap Tour, visit www.pwhpa.com
About Grindstone Award Foundation:
The Grindstone Award Foundation is an official Canadian Registered Charity that started in Kelowna, British Columbia, Canada. They are among the first charities of their kind, in North America, to solely support girls and women in hockey. As the female game continues to grow at both the grassroots and professional levels, Grindstone recognizes the importance of investing in the female game to reach as many players as possible and to produce a strong pipeline. Their heart is to provide support to the community by addressing the needs of young, female hockey players who have a desire to play ice hockey but are unable to for financial reasons. The charity was started in 2014 by Sasha Podolchak and Danielle Grundy, who reside in British Columbia. The foundation, which is a volunteer-led team, sponsored their first girl in 2015, and in 2020, surpassed the milestone of sponsoring over 100 girls to play hockey. For more information, please visit: https://grindstoneaward.com/