Giving girls new to hockey a chance to hit the ice in a fun environment with strong, female role models of all ages has propelled the annual Girls Rock The Rink/Esso Fun Day event in Kelowna, B.C. to success.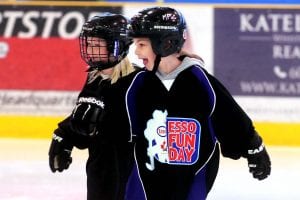 The free event run by the Grindstone Award Foundation, with support from the Hockey Canada Esso Fun Day program, continues to grow with a majority of the participants this year having never played the game before.
"The event is geared towards girls from five to 18 years old and open to all skill levels and with that in mind we have a range of notable guest coaches and female role models that share their experiences with the kids. They not only will skate away with new skills and friendships they make on the ice, but will see first-hand how hockey has shaped these role models' lives," says Danielle Grundy, president of the Grindstone Award Foundation.
Grundy added it is key to growing Girls Rock The Rink.
"We really work hard to try and reach as many parents and kids as possible by ensuring they know the kids will be getting on the ice in a non-threatening environment. Then we have successful coaches such as Candice Moxley, assistant coach of the Canadian Women's Hockey League Clarkson Cup winning Markham Thunder, university players and alumni, right down to junior coaches who are still in the minor hockey league system interacting with the kids. It gives the Girls Rock the Rink participants a range of different backgrounds to interact with."
For one of the junior coaches and a Grindstone grant recipient, Meadow Arcand-Squakin, Girls Rock The Rink was one of the first times coaching. With her own experience being frustrated when she couldn't skate as good as other players or score a goal, she now hopes to inspire other girls to play.
"When I scored my first goal it felt like anything was possible," shares Arcand-Squakin. "It's important to bring attention to female hockey because we'll be stronger the more players we get."
Grundy also attributes the event's success to gaining key sponsorships, including a partnership with a local sports store that donates equipment that participants can then borrow at no cost to give hockey a try.
"Not only that, the Girls Rock the Rink participants got to walk away with a Hockey Canada/Esso Fun Day jersey. For many that play hockey getting another jersey is just an afterthought. For many of those new to the game to get to go home with their first jersey and for it to have a Hockey Canada logo on it, that is pretty cool. It also serves as a great reminder of how much fun they had the first time they were on the ice," said Grundy.
Girls Rock the Rink is an umbrella event organized by the Grindstone Award Foundation, a registered charity that enables young female players to participate and improve their skill development in the sport of hockey.
The try-hockey for free event ran in conjunction with the Grindstone Award Foundation's annual women's charity tournament weekend (July 20-22, 2018). All proceeds from the tournament go towards the charity which provides grants to female players under the age of 19 (across Canada) who have expressed a desire to pursue their goals in hockey. Selection is based on financial need and desire, not hockey ability.
"Our charity believes that getting girls into sport, whether that is hockey or something else, helps build confidence and skills that enable them to be leaders off the ice as well. We have seen this first hand from the 10 girls who received bursaries from the Grindstone last year," said Grundy. "Giving them an opportunity to play for the first time or continue to play hockey has changed their lives. Those are the stories we love to hear most."
The 2018 charity tournament and Girls Rock The Rink event were largely made possible due to the generous support of local businesses: Lifemark Physiotherapy, Lifeblood Marketing, Women's Hockey Life, Sport Chek, Kelowna Minor Hockey, Play It Again Sports, RockTape, Big Surf Beer Co., Touchstone Law Group LLP, Century 21 Assurance Realty Ltd. and Aspire Health & Performance.
Grindstone hopes to support between 20-30 female hockey players for the upcoming season through the funds they have raised at the charity tournament in Kelowna, donations they received throughout the year and a whopping $10,000 donation that they received from another female charity tournament held in Whistler earlier this year.
For more information visit www.hockeycanada.ca and www.grindstoneaward.com.
Written by Kristi Patton and Elina Briezkalne